The F9 large, vertical machining center is designed to provide power, speed, precision, and versatility.
The F9 is designed to to attack both large production part applications as well as big die and mold components by provide stiffness and rigidity for chatter-free, heavy cutting, roughing and finishing on the same machine, agility for high-speed / hard-milling and accuracies for tight-tolerance blends and matches typical of complex, 3-D contoured geometry associated with die/mold and medical production.  The unique machine design provides unparalleled access to ease setup and changeover reducing WIP and overall lead-time.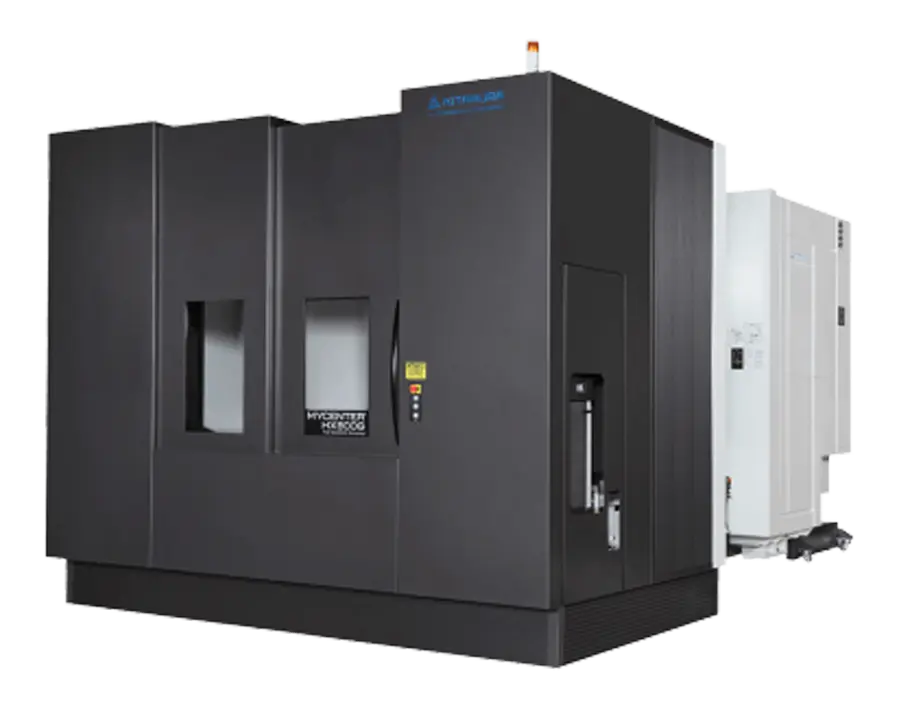 Unparalleled accuracy, productivity, and quality
The Mycenter-HX250G utilizes a powerful 15HP 15,000min-1 (Optional 30,000min-1), #30 dual contact spindle offering up to 70N•m of max torque and pre-plumbed for coolant through the spindle to easily handle high-velocity machining on a wide range of materials. Kitamura's Intelligent Advanced Control System coupled with a spindle oil-cooling unit promote efficiency and reduces heat displacement while allowing for maximum cutting gains in precision cutting operations.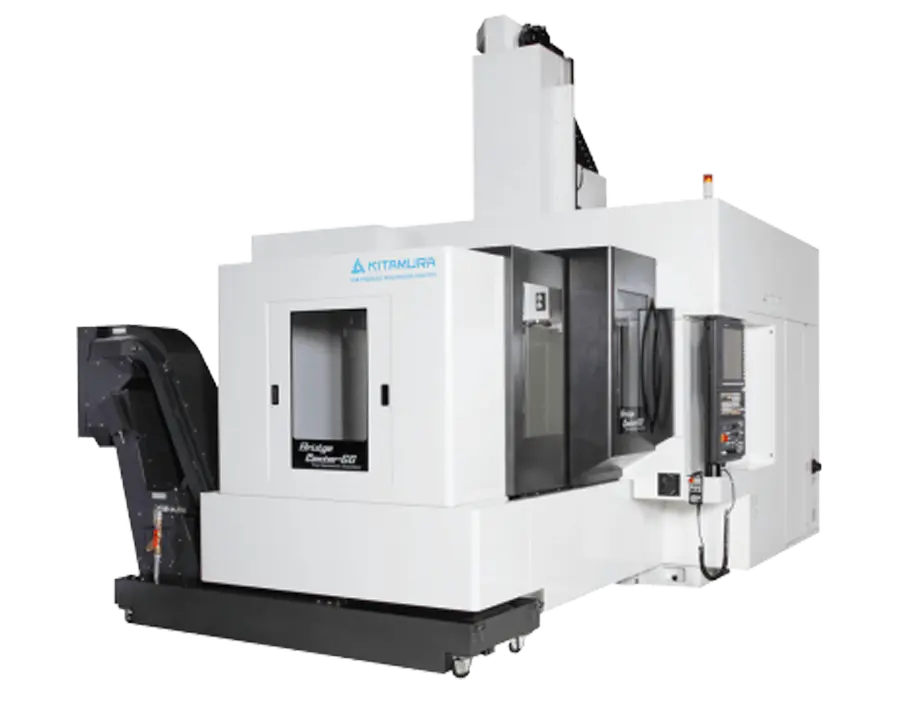 Ultra high speed and high precision
• Well suited for large part machining requiring increased rigidity and higher levels of precision and accuracy. Perfect for roughing and finishing of large cavities and cores in the die/mold industry.
• Patented double column bridge-type design provides expansive work envelope and superior rigidity
• Ultra high speed and high precision contour control for smoother and faster machining. 2,800 block/sec. processing speeds
• 13,300 Lb table capacity provides added benefits for larger, heavier, more powerful machining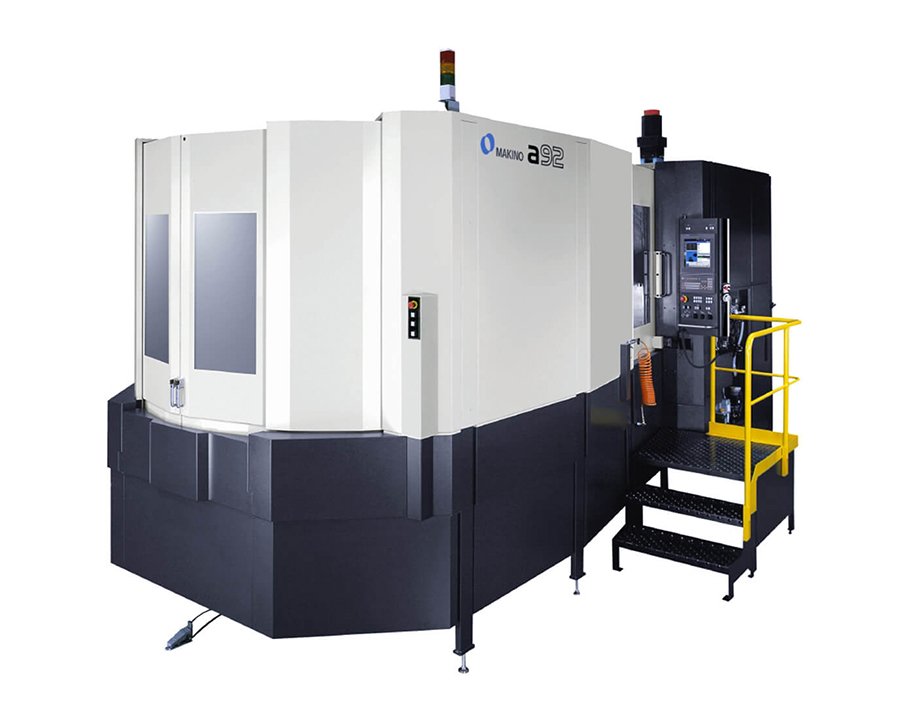 For construction equipment manufacturing
The a92 brings high-efficiency machining to large part production. Designed for unparalleled stiffness and rigidity, the a92 is the ideal machine platform for diesel engine block and construction equipment manufacturing. High-thrust forces can be applied throughout the work zone without traditional limitations. This high performance translates to higher quality production, higher versatility and reliability—all contributing to a lower cost of manufacturing for those serving in agriculture, energy and construction equipment manufacturing industries.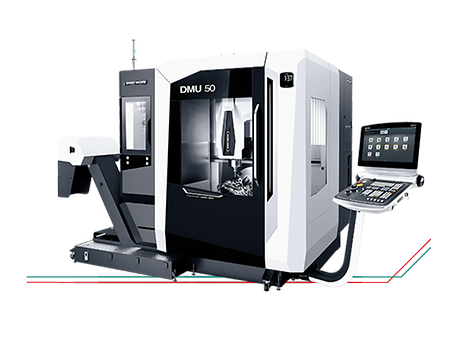 Our DMG Mori 50 universal milling machine for 5-axis simultaneous machining. The DMU 50 is ushering in a new era for workshops, training, laboratories and tool, fixture and mould making. These CNC universal milling machines are characterized by innovative mechanical engineering technology. Highlights such as digital drives in all axes and on the main spindle, rapid traverse up to 30 m/min, acceleration of 5 m/s² and motor spindles rated at up to 18,000 rpm increase the dynamics of the DMU 50.
FULL EQUIPMENT / MACHINE LIST
| DESCRIPTION LATHES | SIZE | SPEED |
| --- | --- | --- |
| Okuma LB15 Lathe | 9″dia x 15″ | 4,000 rpm |
| Okuma LB10 Lathe | 9″dia x 15″ | 4,000 rpm |
| Okuma LB15 Lathe Big Bore Lathe | 9″dia x 15″ | 4,000 rpm |
| Okuma LB15 Lathe | 9″dia x 15″ | 4,000 rpm |
| Okuma LB25 Lathe | 14″dia x 25″ | 3,500 rpm |
| Okuma LB25 Lathe | 14″dia x 25″ | 3,500 rpm |
| Okuma LB25 Long Bed Lathe | 14″dia x 49″ | 3,500 rpm |
| Okuma L470 | 14″dia x 49″ | 3,500 rpm |
| Okuma LB45 – 111 – 2000 Lathe | 26″dia x 81″ | 2,800 rpm |
| Citizen M32 Swiss | 1.25″dia | 6,000 rpm |
| Citizen M32 Swiss | 1.25″dia | 6,000 rpm |
| Citizen L20 Swiss | .75″dia | 6,000 rpm |
| DESCRIPTION VERTICAL MILLS | SIZE | SPEED |
| --- | --- | --- |
| Matsuura RA-4G | 20″dia x 40″ | 12,000 rpm |
| Kitamura BridgeCenter | 31″ x 68″ x 100″ | 10,000 rpm |
| Le Blonde 156 MAKINO | 24″ x 60″ | 4,000 rpm |
| Kitamura 4XIF50 | 20″ x 20″ x 23″ | 20,000 rpm |
| Kitamura MyCenter 7X | 60.2″ x 25.6″ x 27″ | 10,000 rpm |
| MAKINO F9 | 63″ x 31.5″ x 26″ | 20,000 rpm |
| Kitamura 4XI | 20″ x 40″ x 23″ | 20,000 rpm |
| Fanuc A04B RoboDrill | 11″ x 15″ x 19″ | 24,000 rpm |
| Fanuc T21 RoboDrill | 11″ x 15″ x 19″ | 10,000 rpm |
| Okuma MC50VA | 20″ x 40″ | 4,000 rpm |
| OKK pcv 55 | 20″ x 40″ | 6,000 rpm |
| Matsuura RA 4G | 20″ x 40″ | 6,000 rpm |
| DESCRIPTION HORIZONTAL MILLS | SIZE | SPEED |
| --- | --- | --- |
| MAKINO A99 | 37″ x 39″ x 39″ | 12,000 rpm |
| MAKINO A51NX | 23″ x 22″ x 22″ | 14,000 rpm |
| Kitamura HX500i | 34.25″ x 25.6″ x 27″ | 10,000 rpm |
| MAKINO A61 | 28″ x 25″ x 26″ | 14,000 rpm |
| Enshu 800V-2 | 30″ x 32″ x 100″ | 10,000 rpm |
| MAKINO A51 | 23″ x 22″ x 22″ | 14,000 rpm |
| MAKINO A51 | 23″ x 22″ x 22″ | 14,000 rpm |
| MAKINO A92 | x59″ y49″ z22″ | 10,000 rpm |
| Matsuura HP Plus 630 | 34″ x 36″ x 41″ | 12,000 rpm |
| Le Blonde MAKINO MCB 121'0 | 32″ x 41″ x 44″ | 4,000 rpm |
| Kitamura MyCenter HX800ILT | 55″ x 49″ x 59″ | 8,000 rpm |
| SURFACE GRINDER | SIZE |
| --- | --- |
| Okamoto | 16″dia x 24″ |
| QUALITY ASSURANCE | SIZE | |
| --- | --- | --- |
| Carl Zeiss Contura G2 XT | 35.5″L x 27.5″W x 20.5H" | Indicating Micrometers/Calipers |
| Carl Zeiss G2 AKIN | 73.25″L x 39.5″W x 20.5H" | Plug/Thread Gages |
| Carl Zeiss Prismo Navigator | 88.5″L x 47″W x 34.75H" | Gage Blocks |
| Micro View Vision Machine | | |
SUPPORT EQUIPMENT
Marvel Saw
Four Forklifts up to 5,000 lb