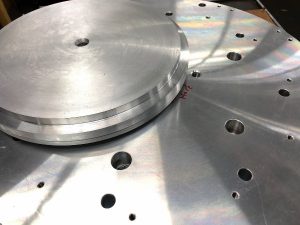 We would like all of our customers to know that we are a reputable precision parts manufacturer that does whatever it takes to stay in compliance with ITAR (International Traffic in Arms Regulations) regulations. We are very proud here at Cheetah Precision of our proven ability to design, prototype then produce highly detailed and spec-compliant parts, which has enabled us to be certified with an ITAR registration. Some of these parts are made for companies that design and fabricate equipment for military purposes. 
By staying in compliance with all specified ITAR regulations, it helps overseas product and data transfers take place seamlessly and has the potential to lessen the export costs for our clients too. That's why it's critical to us for us to be an ITAR certified business. 
What is ITAR? 
ITAR is a set of regulations that were enacted and are strictly enforced by what is known as The Bureau of Political-Military Affairs' Directorate of Defense Trade Controls (DDTC). These regulations are specifically designed to dictate who can have access to specific types of sensitive technology and the data that pertains to that technology. Simply put, the United States Government enacted this law because they do not want sensitive technology that can be used to make advanced weaponry fall into the hands of those who wish to do harm to the USA, its Allies, or its military.
What Products do ITAR Regulations Cover?
The most significant of the ITAR regulations that apply to us is what is known as ITAR 22 CFR 120-130. These are the types of products that are covered under this strictly enforced regulation:
Items that are considered to be directly military or defense-related

Technology that has lethal capability or that has been specifically designed to defend against attack from technology that has lethal capability

Space and rocket technology that can also be used in missile production

This also covers the data that is related to the above mentioned technologies

Regulatory licensing under this guideline is very strict regardless of whether or not a technology was only developed for commercial or research purposes
What Challenges does an ITAR Registration Impose on Manufacturers Like Us?
It is very normal for both stateside and international companies that interact with each other to transfer data back and forth over the internet or for data to be moved and stored locally. This often is necessary to make business processes proceed along smoothly. ITAR regulations make these types of common interactions more complicated to complete and place a bigger burden on a manufacturer or exporter to make sure that they are in full compliance with all ITAR requirements.
Read about our ITAR Compliance Checklist.
What Happens When a Company Fails to Comply with ITAR Regulations?
This is an area that we or the companies that we manufacture precision products for never want to venture into. That's because those companies that are found to violate ITAR protocols face severe fines and other penalties. This includes having even the non-military-related products they make being heavily scrutinized before and during their transfer. This can place severe hardships on those companies found not to have secured an ITAR Registration because this will slow product transfer times and increase shipping and export costs. This is why we at Cheetah Precision are so committed to maintaining strict compliance with ITAR regulations at all times.
For more information on our ITAR-registered and consistently high-quality precision machining services, call Cheetah Precision at 651-633-4566. 
IN PRECISION PART MANUFACTURING