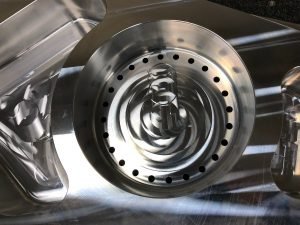 What makes a great precision machining company? When you are getting a precision part made, you want to contract that job with a company that has a reputation for going above and beyond what is expected of them on a project. Since that's the case, you are not going to want to trust that task to just any old run-of-the-mill precision parts manufacturer. That leads to the question, what are the qualities that outstanding precision parts-making companies consistently display?
Qualities of a Great Precision Machining Company
These are a few of the most important traits that should be reasonably expected from a precision parts manufacturer.
Uses State-of-the-Art Manufacturing Equipment
If there is one thing that's a must for any precision parts manufacturer, it's making sure that they spare no expense when it comes to purchasing the latest and best equipment. High-end CNC-driven machines such as lathes, grinders, and horizontal & vertical mills are essential to getting precision parts projects to turn out to the standards that were specified for them. These machines must also be able to store data that allows them to make big production runs to the same exacting standards as the prototype parts that were originally made by them. Having outstanding quality assurance equipment completes the process before shipping.
Practices Exceptional Quality Control
Precision parts need to be just that. That's why a manufacturer of these types of parts must put policies in place to make sure that the exacting standards that are asked of them by clients are met or exceeded. This includes doing periodic quality assurance checks at key junctures of the manufacturing process. The machines that make precision parts must also be properly maintained and that includes having their calibrations checked regularly. Most importantly, a thorough quality inspection must be performed on a finished precision part before shipping to make sure all the specified measurements for it have been met. This is the only way to ensure that a client receives a precision part that can be seamlessly integrated into their manufacturing process.
Is ISO Certified
Quality assurance from a precision parts-making company can become even more credible if a manufacturer is ISO certified. ISO is a body that develops standards for manufacturers in all different types of industries including precision parts manufacturing. For a company to obtain ISO certification, they must consistently demonstrate that their products meet or exceed their clients' expectations. Official ISO certification is only given to a company after independent testers and auditors have verified that a company is adhering to the ISO standards that are set forth for their industry.
Strictly Adheres to ITAR Regulations
The federal government keeps a tight rein on precision parts going overseas that are directly related to the creation of weaponry or ammunition or involve sensitive technology that has the potential to be used for this purpose. They do this through an agency that ensures compliance to what is known as the International Traffic in Arms Regulations (ITAR). For a company to maintain compliance with these regulations, they must at all times be proactive when it comes to the necessary record-keeping that ensures conformance. This is a must for any manufacturer that wants to avoid hefty fines and holdups that can significantly delay the delivery of the precision parts they have created to their clients.
Offering A Well-Rounded Precision Parts Manufacturing Experience
Well, you have come to the right place if you are looking for a precision parts manufacturer that checks all of the above-mentioned boxes and more. We are a company that simply does not accept anything less than strict adherence to stated manufacturing regulations and creating a precision parts-making environment that gives your projects their best chance for success. Add into that mix our high level of customer service and you will be contracting your precision part-making task with one of the most respected and well-rounded companies in the industry.
Contact Us for Your Precision Machining Needs
Now that you already know what makes a great precision machining company, then it's time to look for the right company to work with for your precision machining and manufacturing needs. Cheetah Precision has all of these qualities and so much more. Aside from our certifications and proven experience and results working with a wide range of industries, we also make sure that we provide outstanding customer service. Contact us at 651-633-4566 for inquiries today.